IVONA, PRINCESS OF BURGUNDIA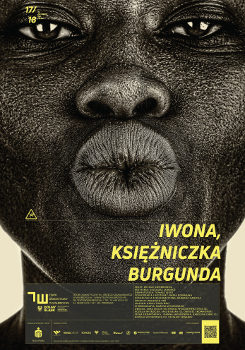 PREMIERE:
13th October 2017 / MAIN STAGE
text: Witold Gombrowicz
direction: Grzegorz Jaremko
dramaturgy: Tomasz Jękot
scenography and costumes : Rafał Domagała
scenography consultation: Barbara Hanicka
light designe: Wojciech Puś
music: Kamil Tuszyński
choreography: Bożena Wydrowska
photos: Natalia Kabanow
cast: Sara Celler-Jezierska, Włodzimierz Dyła (gościnnie), Rozalia Mierzicka, Jakub Sasak (gościnnie), Dariusz Skowroński, Irena Sierakowska, Joanna Łaganowska, Karolina Gibki (gościnnie), Bożena Wydrowska (gościnnie), Czesław Skwarek
After many years Witold Gombrowicz comes back to Wałbrzych's stage.
What does he want to tell us today?
Who is Iwona and why do we want it so badly not to have her here?
In immensity of theatrical interpretations, Iwona has already been everyone. Today she's a manifesto of self-determination, a valid question about normativity and who determines it. Or rather a question about democracy? Freedom? Alienations? Passive protest forms?
"Iwona, Princess of Burgundy" is a performance about an increasing need of empathy and look for identity. It's a question why Poland is something we can be choked by.
The performance is a triple debut:
directing – Grzegorz Jaremko; stage scenery – Rafał Domagała; acting – Jakub Sasak
Z powodu ochrony przed spamem Twój komentarz zostanie wyświetlony po akceptacji przez administratora strony.