High Noon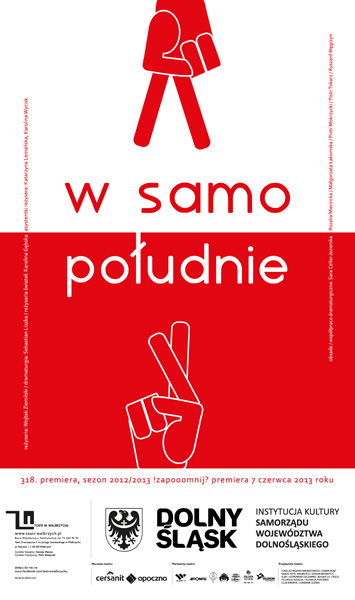 PREMIERE:
7th June 2013,
Main Stage
direction: Wojtek Ziemilski
dramaturgy: Sebastian Liszka
light management: Karolina Gębska
director's assitant: Katarzyna Lemańska, Karolina Wycisk
Casting/​ dramaturgy cooperation:
Sara Celler-​​Jezierska, Małgorzata Łakomska [guest actor], Rozalia Mierzicka, Piotr Mokrzycki, Piotr Tokarz, Ryszard Węgrzyn
"High Noon" – a performance, for which a starting point was 4th June 1989 – an election day for Seym and Senate and democratic victory of democracy descending from Solidarność. While working on the performance, actors team found and spoken to 1989 Wałbrzych candidates , asking for actions motivation and choices made by them after 4th June 1989. " High Noon" is neither documentary performance, nor a victory story. It's a performans of memory that meets others' memories.