Heroines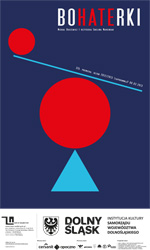 PREMIERE:
8th March 2013,
Small Stage
direction: Ewelina Marciniak
sceno­graphy – Marta Stoces /​ Julia Porańska
music, screening – Tomasz Wierzchowski
Casting:
Małgorzata Białek [guest actor], Małgorzata Łakomska [guest actor], Mirosława Żak, Agnieszka Żulewska [guest actor], Filip Perkowski
"Heroines" is a story of 3 women, who cannot deal with their loneliness, who spend time with each other, balancing between addiction to each other and tiredness of this company. They are the reflection of famous "theatrical threesomes" – Czechow's "Three Sisters", or Schwab's "The Presidents", perpetually relating their failure. On the other side is the fourth woman, who succeeds in everything – she changes each failure into a success, and humiliation into power. The plots of all women are connected by a man, who turns up at home unexpectedly. But it turns out, that his goal does not follow up women's dreams. It's the other way round actually – it blights them. In such a situation it is necessary to be heroic. The performance is an attempt to look at situation of women determined by a strong closeness need and exposed to mental and physical abuse. The character of a dangerous man, placed in the middle of women's house is pushing the story into a thriller story corners.