EVERYTHING IS HERE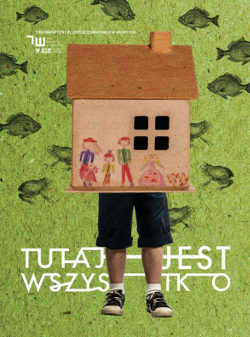 PREMIERE:
15th December 2015
based on the "Book of everything" by Guus Kuijer
translated by: Jadwiga Jędryas
directed by, dolls and houses: Magdalena Miklasz
/ adapter by and video: Amadeusz Nosal
set design, costumes, light design: Mirek Kaczmarek
music: Anna Stela
stage manager: Anna Solarek
cast: Sara Celler-Jezierska, Dorota Kowalkowska, Joanna Łaganowska, Filip Perkowski, Piotr Tokarz, Ryszard Węgrzyn, głos / voice of: Jakub Skrzywanek
Main character is an imaginative nine-year-old Thomas who can see things hidden from other people's eyes and who want's to be happy when he grows up. Thomas's family only seams regular – there is a secret hidden in this household, the reason why flowers move their heads towards the windows and angels cover their eyes. Thomas describes all of this in his diary – "A Book of Everything" – and this is why he stops being afraid…
Cooperation with The Counsellor of Wałbrzych
The Seed – the award of Young Jury at Korczak Festival 2016
Z powodu ochrony przed spamem Twój komentarz zostanie wyświetlony po akceptacji przez administratora strony.