AUSGANG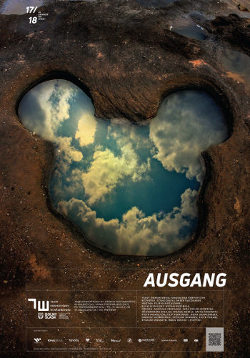 PREMIERE:
27th April 2018 / MAIN STAGE
text and dramaturgy: Magda Koryntczyk
direction , scenography and costumes: Mirek Kaczmarek
music: Filip Kaniecki
scenic movement: Michał Przybyła
photos: Natalia Kabanow
cast: Angelika Cegielska, Sara Celler-Jezierska, Irena Sierakowska, Irena Wójcik, Włodzimierz Dyła [g], Michał Kosela, Rafał Kosowski, Piotr Mokrzycki, Filip Perkowski, Dariusz Skowroński, Czesław Skwarek, Piotr Tokarz, Ryszard Węgrzyn oraz statyści: Oliwia Gruca, Agnieszka Małecka, Magdalena Małowska, Elżbieta Sejda, Róża Sochan, Ryszard Godlewski, Patryk Lech, Zbigniew Sowiński, Hubert Wasilewicz
Inspired by "Maus" by Art Spiegelman, "Howl" by Allen Ginsberg
In the performance fragments of "Kerouac/Ginsberg: The Letters" translated by Krzysztof Majer were used (CZARNE Publishing House, 2012)
"Ausgang" is an alternative Bible inspired by iconography of the greatest graphic novel of all times – "Mausem" by Art Spiegelman – the history of humanity from Genesis to Revelation, a violence lexicon for beginners and intermediate, a warning against remaining silent in the face of iniquity and a call for responsibility for the world, which we create. A performance, shown in an unusual visual form, which, in ironical, precise and amusing way touches chapters still not done in humans history.
The performance is a directing debut of the recognized stage designer – Mirek Kaczmarek.