Actor's House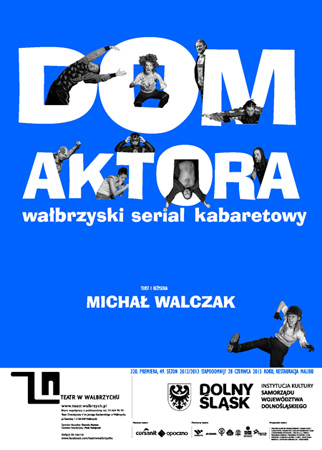 PREMIERE:
1st episode: 28th June 2013, Bar Malibust
2nd episode: 7th September 2013, Foyer
3rd episode: 17th September 2014, Club NOT
Wałbrzych comedy series
1st episode: Last Gulliver
2nd episode: A crime in Victoria Shopping Mall
3rd episode: The mystery of Hotel Sudety
Text and direction: Michał Walczak
music: Tomasz Gadzina
space and costumes arrangements: Katarzyna Szukszta
Casting:
Karolina Krawiec, Rozalia Mierzicka, Davina Reeves (guest actor), Irena Wójcik, Ewelina Żak, Mirosława Żak, Włodzimierz Dyła (guest actor), Rafał Kosowski, Filip Perkowski, Tomasz Pisarek (guest actor), Piotr Tokarz, Ryszard Węgrzyn
ACTOR'S HOUSE is a comedy series for viewers with strong nerves and sensitive ears. Michał Walczak with "Wałbrzych team" undertakes funny and moving vivisection of Wałbrzych theatrical and urban life, intertwined with artists' personal experiences. The action moves from Actor's House, through "Victoria" Shopping Mall to Hotel Sudety, closed down for years. There is something hidden in each of the places. Absurd humour, loose form, a healthy portion of embarrassment, songs inspired by actors' ideas that fall into a course of an endless excesses, puzzles and romances. And all that happens outside the theatre, in ambience of Wałbrzych pubs and restaurants.